Question and answer section
Traeger Pellet Grills
Bring unrivaled wood-fired taste to the table, unlocking your food's true potential. No matter which model you select, Traeger's 6-in-1 ability means you can grill, smoke, bake, roast, braise, and barbecue with pure hardwood flavors.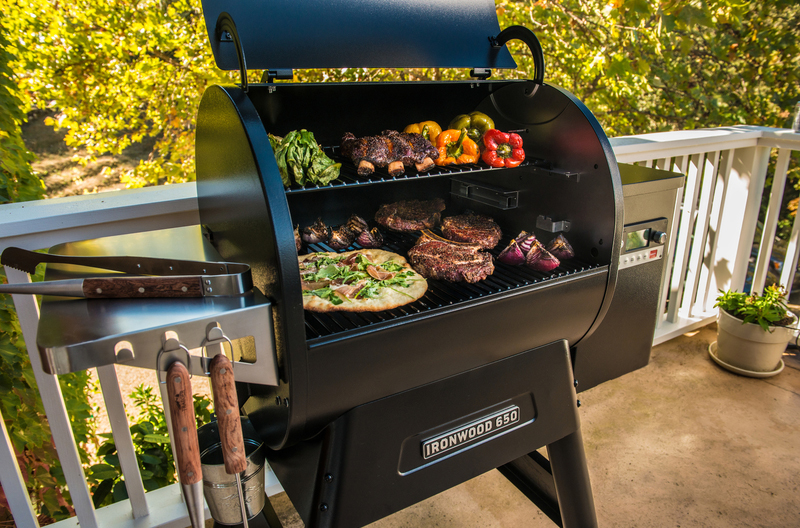 Traeger invented the original wood pellet grill over 30 years ago in Mt. Angel, Oregon, and they continue to lead the industry as the world's number-one-selling grill in this category, perfecting their product through decades of studying the craft of wood-fired cooking.
The best wood pellet grill on the market demands the best wood pellets on the market. All-natural hardwood pellets, made in American mills, are designed specifically for Traeger grills and calibrated for maximum consistency for perfect results every time. Choose pellets in a variety of flavors, including bold hickory for beef or sweet apple for pork and baked goods.
How does a Traeger wood pellet grill work?
Traeger Pro 780

Take the guesswork out of outdoor cooking with the new Traeger Pro 780. Steak, wood-fired pizza, and smoked apple pie have never been easier. Traeger's famously easy Set-It & Forget-It® controller makes outdoor cooking as simple as filling your hopper with hardwood pellets and setting your cooking temperature. With the WiFIRE®-enabled controller and the Traeger app, experience grill control like never before. Change temperatures remotely from your phone anytime, anywhere. Download recipes directly to the Pro 780 and the WiFIRE controller will navigate you from prep to plate with Traeger's GrillGuide® technology. Count on precise temperatures and perfect wood-fired flavor in every meal with the new D2® Direct Drive drivetrain. Direct Drive makes the grill more efficient and more consistent every time you fire it up. This is wood-fired flavor made easy! (Sku 8016780)
Traeger Ironwood 650

This one is for the backyard heroes, the BBQ kings of the block. You don't just grill; you've mastered wood-fired cooking and are hungry for more. Take your craft to the next level with the Traeger Ironwood 650 with pellet sensor. From WiFIRE technology for grilling on the go to Smoke Science for a major flavor upgrade, you'll never look back. Features include Ironwood D2 controller with WiFIRE technology, meat probe with storage compartment, double side-wall interior, stainless-steel side shelf with hooks, hopper clean out, sawhorse chassis, and all-terrain wheels. Grill capacity 8 chickens, 5 rib racks, or 6 pork butts . . . yes, butts! (Sku 8030466)
Need some inspiration? Check out just some of the delectable dishes you can cook on your Traeger. (Warning: Don't watch on an empty stomach!)
Stay in the loop!
Sign up to receive our emails!