Cole Hardware Careers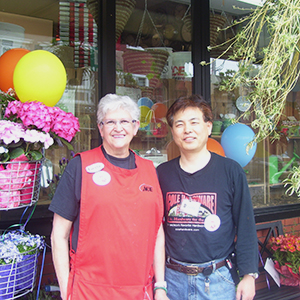 Welcome to Cole Hardware and thank you for considering us for your employment. We're happy you are applying to work with us and look forward to meeting you!
Cole Hardware is a great place to work. But don't take my word for it: ask our staff or, better yet, take a look at the results of our most recent annual Staff Satisfaction Survey. You'll see that while we certainly aren't perfect, our staff thinks highly of their careers at Cole Hardware and are appreciative of the benefits, both tangible and intangible, of working here. Cole Hardware Employee Survey 2015
Working at Cole Hardware immerses you in a unique family culture. Diversity, independence, and teamwork are important to us. Both your smarts and your smile are critical to your success in our community-oriented, employee-centric culture. At Cole Hardware, you are given the freedom to "own" your job, as you work hard to please our customers. In fact, our internal mission statement guides our every action: "Do whatever it takes to create positive dinnertime conversation." And to our customers, we present our external mission statement: "Our commitment to you: Your satisfaction guaranteed. Period." Combined, these make Cole Hardware a great place to both shop and work! And, of course, we fully realize we can only have happy customers if we have a happy staff.
Enough about us. When you apply, be sure to tell us about yourself. Paint a picture of who you are. What experiences have you had that will benefit your career at Cole Hardware? Why are you applying with us? What have been your greatest success stories as well as those stories that were less than successful? What do you like to do outside of work? We're looking for bright, enthusiastic, hardworking, independent folks to join our family of great people.
I hope to meet you one day soon!
Rick Karp, President
aka Keeper of the Karma
We offer great career opportunities. We focus on developing and growing our current staff, always promoting from within. We are looking for friendly, bright, creative, talented, and hardworking individuals committed to delivering excellent customer service. If this is you, don't hesitate: Join our great team!
Cole Hardware is a locally owned family business serving San Francisco and the Bay Area since 1920. Cole Hardware is known for its outstanding customer service, commitment to the community, and leadership in environmental efforts through public outreach, education, and collaboration with non-profit organizations and the City of San Francisco. We are the first green-certified hardware stores in the nation. If you are passionate about your career and contributing to a company you can believe in, consider joining our team.
Cole Hardware offers a family-friendly environment with opportunities for growth and great benefits, which include vacation and personal time off; medical, dental, and life insurance; a 401(k) retirement plan, commuter benefits; and much more.
Cole Hardware is an equal opportunity employer and is committed to making employment decisions on the basis of merit. We want to have the best available person in every job. Company policy prohibits unlawful discrimination based on race, color, creed, sex, religion, marital status, age, national origin or ancestry, physical or mental disability, medical condition, sexual orientation, including all classes protected by federal, state, or local laws. All such discrimination is unlawful and will not be tolerated
Current Opportunities