Rockridge
San Francisco's Favorite Hardware Store has ventured across the bay! We are so excited to have set up shop in the beautiful Rockridge neighborhood of Oakland. Cole Hardware is a local family owned business that has been in its original location in the Cole Valley neighborhood of San Francisco since 1920. The patriarch of our stores is Dave Karp – today at 98, he is still a beloved figure among Cole Hardware customers and crew, and likes to stop by the stores to visit and show off his signature card trick. Dave's son Rick is Cole Hardware's President and Keeper of the Karma, and his grandkids David and Adrianna can also be found bustling about the stores. Though much has changed in the stores (and in the world!) since Dave first opened his doors for business, the motto that guides us today is the one that he hung over the front door at Cole St. on day one:
"There are no strangers here, just friends we haven't met!"
Now five stores, we strive to provide unbeatable customer service that is rooted in this very attitude. Our goal is to provide with you what we like to call "positive dinnertime conversation" after your experience at Cole Hardware. We like to think it is this quality of service in addition to our extensive product selection ensures that we are fast making friends with all of our new neighbors in Rockridge. Just as was the case for our last new store opening 11 years ago in Russian Hill, what brings us to the neighborhood is YOU: current Cole Hardware customers living in Rockridge reached out to tell us Cole Hardware would be a good addition to the wonderful group of businesses on College Ave. We checked it out, and were delighted to discover that we couldn't agree more! Among such a thriving group of folks who value community and the individuality that locally owned businesses bring to their neighborhood, we know we are fitting right in.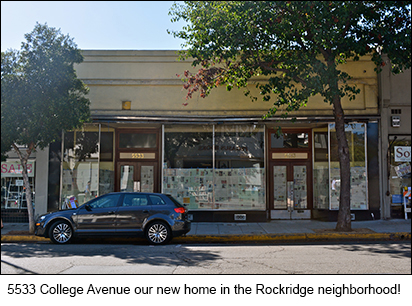 Rockridge's new Favorite Hardware Store opened it's doors January 2nd, 2015. We are already busy working to make sure the newest baby in the Cole Hardware family is an asset to the neighborhood and thrives mutually along with the Rockridge community. Each of our four existing stores has its own unique personality in order to best serve the needs of their diverse San Francisco neighborhoods, and Rockridge will be no different! As in our other stores we are already busy cutting keys, mixing and matching paint, and advising you on your plumbing, electrical, gardening, home improvement and kitchen endeavors. But you'll be surprised what other unexpected products and services you'll find when you come in. If there is a unique niche you would like to see our Rockridge store fill, please drop in and say "hello," we would love to hear from you! Or feel free to reach out to us at service@colehardware.com.
Learn about our Community Partnership program: Do you know of a neighborhood school or nonprofit that would benefit? www.colehardware.com/partners/
Check us out on Facebook: www.facebook.com/colehardware
Cole Hardware is now hiring! www.colehardware.com/online-application/