Re-Cole-Mend Repair Referral Service
Have a Question?
Request a Repair Referral
Previously FeaturedRe-Cole-Mend Services
This Month's Featured Service
Home Painting by Todd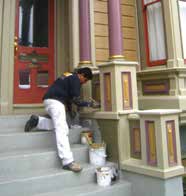 No job too large, or too small!
In order to provide our customers with the very best in home repair, maintenance and remodeling, we have formed alliances with local contractors and tradespeople. All jobs are referred to these independent business people but are continually monitored by our staff.
Call or text any Cole Hardware store to get a Repair Referral today!
Services Offered

Air Conditioning
Alarms/Security Systems/Access Control
Antique Restoration
Appliance Repair and Installation
Arborist
Architectural Planning
Asbestos Removal
Bath Resurface
Brick and Stone Masonry
Cabinetmaking
Carpentry
Carpet and Linoleum Installation
Carpet Cleaning
Chimney Sweep and Repair
Cleaning/Janitorial
Commercial Kitchen Installation
Computer Data Cabling
Computer Grounding
Computer Repair and Tutoring
Custom Closets, Pantries and Storage Solutions
Decks New/Stain
Design + Build
Disaster Cleanup and Restoration(Flood/Fire/Sewage)
Door Refinishing
Drain Cleaning
Drywall / Lath
Duct and Dryer Vent Cleaning
Electrical 24/7
Emergency Locksmith
Emergency Power Restoration
Faucet Repair and Installation
Fences
Furnace Repair and Installation
Furniture Refinishing and Repair
Furniture Upholstering
Garage Door Repair/Installation
Gardening/Pruning/Tree Trimming
General Contractors
Glass Installation
Grout Restoration
Handyman Services

Hardwood Floors New/Refinish
Home and Office Organizing
Home Energy Rating Systems (HERS)
Home Entertainment Systems
Intercom Systems
Interior Design, Staging, and Color Consultation
Interior Wood Refinishing and Restoration
Iron and Metal Works/Gates
Kitchen and Bath Remodeling
Landscaping
Lead Inspection and Abatement
Leak Diagnosis/ Waterproofing
Lock Installation
Locksmith Service 24/7
Mold Remediation
Moving
New Construction
Painting Interior/Exterior
Plastering
Plumbing 24/7—Now available in the East Bay, too!
Powerwashing, Commercial and Residential Cleaning
Remodeling / Major Remodeling
Room Additions
Safes
Security Evaluation / Consultation
Seismic Upgrading
Sheet Metal Work
Shutter Installation
Skylights
Solar Energy Installation
Stained Glass Creation and Repair
Stair Lift Installation
Stucco Work
Telephone System Installation
Tile Installation
Wallpaper Application
Water Heater Installation
Welding
Window Cleaning/Repair
Windows and Doors