Big Green Egg Organic Lump Charcoal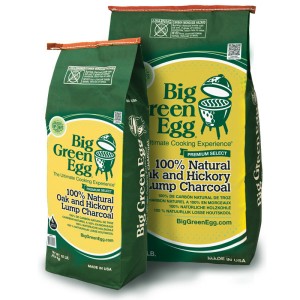 Big Green Egg (BGE) has long been committed to eco-friendly and natural products—what else would you expect from a company whose middle name is green?! When you reach for the familiar Big Green Egg bag, you are getting 100% organic lump charcoal, made from American oak and hickory ultra-premium hardwood.
What's the difference? BGE painstakingly sources its organic charcoal to ensure that it is pure hardwood and contains no fillers, nitrates, chemicals, treated wood, or petroleum by-products. Unlike some charcoals and briquettes on the market today, pure and natural BGE charcoal is only carbonized wood, with no additives whatsoever.
More important, your food is going to taste better when you cook with BGE charcoal. In fact, many chefs consider BGE charcoal one of the secret ingredients that contributes to the distinctive flavor of the food cooked on an EGG. When selecting lump charcoal, you'll always rest easy knowing the familiar green and yellow bag contains pure hardwoods, without the chemicals that quick-light charcoal products.
You put a lot of effort into creating your favorite recipes and meals. Don't come up short when it comes to the fuel for your EGG. Available in two convenient sizes. (10-pound bag: Sku 870016, $16.99; 20-pound bag: Sku 870010, $32.99)