Cole Hardware Supplies

The Source
Recent Articles from "The Source"
New 2014 Smoke Alarm Laws
Starting in July 2014, the California State Fire Marshall will be enforcing new requirements on any new smoke alarms listed in the state.  Beginning July 1, any new listing of a smoke alarm will be required to have a nonreplaceable and nonremovable 10 year battery. Notice the emphasis on the word "new:" There are some exceptions to the requirement.  For smoke alarms that were in your possession or ordered before July 2014, you have until July 2015 to replace them or install additional alarms that comply with the new law. But eventually, we will all have to get used to this as the new standard in the industry.
Why can this be considered a good thing in the long run? Tenants or employees can no longer opt for the convenience of simply removing an expiring battery when it starts to chirp – ruining your good intentions to comply with the law and protect property in the event of a fire. But of course, it also means a little extra effort goes into selecting the smoke alarms you chose to install. Since this new requirement doesn't apply to all states, not all smoke alarms out there on the market will be manufactured accordingly. (However, there are some resulting restrictions coming down the pipeline for manufacturers, going into effect in 2015.)
Let your frie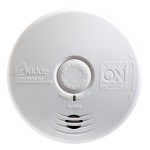 nds at Cole Supplies take the guess work out of selecting the smoke alarm units you use in your next installation. We've examined all the options, considering features, effectiveness and price. Our pick? The Kidde model P3010K-CO. This is a worry-free smoke and carbon monoxide alarm with a 10 year lithium battery. It automatically activates when attached to its mounting brackets with no pull tabs or switches. The alarm is equipped with 2 types of sensing technology: photoelectric and photochemical. The combination allows the sensors to communicate with each other and better discriminate a real hazard and a false one, depending on what is detected. This significantly reduces the potential of a nuisance alarm. With luck on your side, the alarm won't make a peep until 10 years after installation: alerting the user that the alarm needs replacement.
Call us up today with questions on how the new regulation affects you, or for your competitive quote!
For more detailed information on the new law, visit http://www.hcd.ca.gov/