Ladies' Night & Mixer
Thursday, October 13
4PM -8PM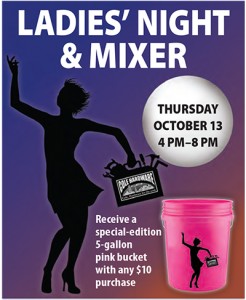 Ladies' Night returns to all Cole Hardware locations on October 13. We've put together a fun evening of activities and raffle prizes for all to enjoy. The great news is that you don't even need to be a "lady" to attend—all are welcome: men, women, the young, and the young at heart! Please join us for the exciting evening and bring the family! Receive a special-edition 5-gallon pink bucket with any $10 purchase!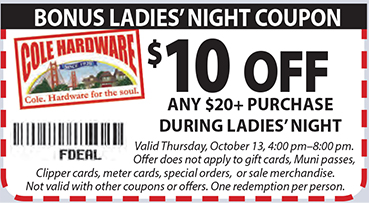 Meet and Greet!
Stephanie: Espoma® Cole Street Store
Espoma offers the highest quality, most effective natural and organic products for the lawn and garden. Stephanie will be on hand to answer all of your plant questions.
Colum: Malibu Compost Rockridge Store
Malibu Compost products are hand-crafted, using only fully finished compost that is made according to traditional biodynamic practices. Colum will be on hand to answer composting questions and serving Frey Vineyards biodynamic-certified wine, highlighting terroir as part of its soil story.
Hands On!
We will be conducting these demonstrations during Ladies' Night:
Planter from Salvaged Items
Almost any old item can be transformed into a fun planter! Bring in a small salvaged item, suitable to hold dirt, and we'll help you create a fun planter. We'll supply the soil and three succulents—you just need to br ing you r treasured vessel.
SodaStream™
This revolutionary appliance has changed the soda game. Make sparkling beverages in a matter of seconds. See how easy it really is to make soda and sparkling water. Buy any SodaStream starter kit and receive a free flavor— up to a $8.99 value.
Christophe Pourny Furniture Tonic
Come see how this tonic restores the luster and shine to wood that time and sun can diminish. (Sku 102103, $17.99) Bring in a small wooden item that needs some love, and we'll treat it with the tonic free!
Block Oil®
Bring in your favorite wooden or bamboo cutting board for a free Block Oil treatment that will penetrate, condition, and seal the surface, protecting it from cracking, drying, and absorbing food odors. (Sku 102004, $7.99)
Enjoy!
Appetizers

C

ole

H

ardware Cutting Edge wine

C

ole

H

ardware gourmet chocolates
Donate!
Dress for Success® and Wardrobe for Opportunity Clothing Collection
Our Ladies' Night will once again also serve as a donation drop-off site for Dress for Success and Wardrobe for Opportunity, whose missions are to promote the economic independence of disadvantaged women by providing professional attire, a network of support, and the career development tools to help women thrive in work and in life. Both organizations offer services designed to help their clients find jobs and remain employed.
Our lifestyles and even work attire have become so casual over the last few years, many of us have professional clothing that we no longer need. This is your chance to help someone in our community who can use this clothing. A tax donation form will be provided at the time of your donation. During Ladies' Night last year, we collected hundreds of articles of clothing and accessories, and we hope to do it again with your help!
The following is a list of appropriate clothing and other items we can accept:
Matching suit (jacket and pant/skirt)
Interview-appropriate blouses, skirts, slacks, and dresses
Above clothing must be on hangers—no bags, please.
Work-appropriate shoes
Jewelry and scarves
Handbags (briefcases, portfolios, or work-appropriate purses)
Donate $10 to Dress for Success during our Ladies' Night event and receive a $5 Cole Hardware gift card good on your next visit.