Mission Street Store Lost to Fire
It was 1984. I had just opened the second Cole Hardware, our Mission Street store, and I was quickly learning that having two stores was much more complex than having just one. A mentor in the hardware industry had told me then, "Rick, if you can successfully run a second store, you can run 100." I'll never forget that. The lessons came daily, and I was truly learning retail all over again. It wasn't easy, but we made it. The Mission Street store was embraced by the community, and we thrived as we embraced the Mission/Bernal community right back. We loved our new neighborhood just as much as our Haight-Ashbury home.
The most important lesson we learned was how external issues beyond our control could negatively influence our business and even threaten its existence. Our Mission Street store sat beneath four apartments in an old building, squeezed between two other old buildings. Over the years, that translated into floods and water damage from overflowing bathtubs or broken pipes, smoke and water damage from fires from candles or hot grease, and much more. We dealt with each challenge, learning the reality of running a hardware store in a tight, urban environment. Now, 32 years have gone by, and unfortunately, the worst has happened.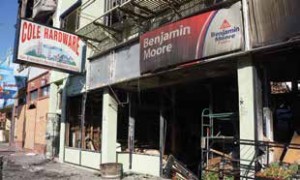 The call from Adrianna on June 18: "Dad, the store is on fire. Everybody is out, unharmed, and in the Safeway parking lot. It's really bad." I raced to the Mission Street store with my son, David, who sat next to me watching the fire unfold on his phone. We made our way to the parking lot to be with our crew members. We couldn't get close to the store, but the scene around] us felt surreal. There was a sense of both sadness and support among the crowd as the community watched with us in awe. Soon, the fire investigators sought me out. They took me behind the line to quiz me on what combustibles were in the store.

And there I was, standing behind the firefighters who were battling a raging fire and watching smoke spewing from the windows of my second store. It was an emotional moment. Through tears, I saw shelves of merchandise collapsing before my eyes, caught between the flames and the water cannons. Sunshine was streaming through as the second-floor apartments collapsed into the store. Writing this, two weeks later, brings back those same tears. This time, the store was lost.
The loss is devastating, both for our business and for the community. Yet, I am thankful. Unlike many others affected by the fire, our crew members were lucky to be able to go home that evening. They had acted heroically and executed our disaster plan flawlessly. And the very next day, all were warmly embraced by their new teammates in our other stores—everyone is still working.
To our many friends and patrons in the neighborhood: Please come and visit us at our other stores. You will be welcomed with open arms. We fervently hope you will remain a part of our Cole Hardware family, and I thank you for a wonderful 32 years.
We will be back!
—Rick