Kanberra® Tea Tree Home Products
Got Mold? Mildew? Odors? Stop the stink with Kanberra, a line of all-natural air purifiers made from pure Australian tea tree oils certified by the Australian Tea Tree Industry Association. Kanberra was first to create a water-based, chemical- and alcohol-free air purifier using these oils. Additionally, Kanberra can trace its oils from seed to sale— which means its products are safe to breathe!
The star of the Kanberra product family is the Kanberra Gel®, available in a wide variety of sizes for hundreds of different applications. As the water evaporates from the container, the tea tree oils enter your air and latch on to mold, mildew, fungus, bacteria, and more. And because there are no chemicals, you never have to worry about Kanberra products in the air you breathe. (2-Ounce Gel: Sku 106008, $19.99; 4-Ounce Gel: Sku 106009, $31.99)
Kanberra's other products, Kanberra Spray® (Sku 106010, $8.99) and Kanberra Wipes® (Sku 106011, $8.99), do double duty!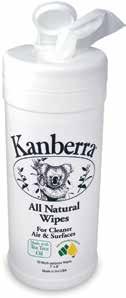 They both clean your air and surfaces.

Kanberra products can be used in numerous life spaces. Keep Kanberra in your car—whether it's your everyday car or a classic car you keep in storage, Kanberra keeps it fresh and odor-free! Use it around your pets—did you know that insects dislike tea tree oil? Spray a few squirts of Kanberra Spray on your dog to help prevent fleas and ticks and keep the mosquitos from biting.
Kanberra Spray is also a great remedy for the "wet dog" smell that all dog owners are familiar with! In your home, keep a jar of Gel in your garbage can, diaper pail, next to a kitty litter box or dog kennel. In your RV or boat, use the Gel to prevent mold, repel critters (like mice!), and keep your space fresh all season long.
So, when you need a product that truly does it all—removes odors, repels insects, prevents mold and mildew— make sure you "look for the koala" with Kanberra!