Meet Andrew: Master Electrician and More!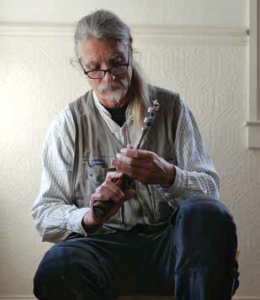 Master electrician Andrew earned his title through the old-school tradition of apprenticeship. In 1985, he began pursuing his fascination with all things electrical by signing on with master electrician Jon. Under Jon's tutelage, Andrew learned theatrical lighting, both residential and commercial electrical, and the special ins and outs of knob and tube wiring in San Francisco's famous Victorians. To this day, Andrew lives and breathes knob and tube, claiming "if the system hasn't been 'remuddled,' it has a proven track record of being a very safe wiring method."
In addition to providing general electrical services, Andrew is skilled at troubleshooting electrical quandaries. He brings a highly developed sense of esthetics to light-ing design, which is informed by his background in theater. Creativity comes naturally to Andrew, and his lifelong pursuit of music took him all over the world as a founding member of ROVA, the Bay Area–based saxophone quartet with whom he has toured extensively and has recorded more than a dozen albums. Andrew's current musical activities include live music for film (Reel Change) and playing with the improvisational music ensemble Howling Ray and the Bent Tones, which he also records in 7.1 surround sound. Which brings us to another of Andrew's passions and talents: audio/visual and surround sound. He loves bringing his expertise into people's homes via designing, installing, and calibrating a whole-house sound or theater system.
As well as being licensed as an electrician, Andrew is a Denon trained and certified custom installer. Whatever the size of your space, it can always sound more fabulous! Andrew is an avid bird watcher, and he volunteers his electrical services at the San Francisco Charlotte Maxwell Clinic, which provides free cancer treatment for low-income women. He is delighted to have joined forces with Cole Hardware, a business model he truly admires and believes in—one that's committed to enhancing the well-being of the neighborhoods it serves. To reach Andrew for any electrical or sound projects in either San Francisco or Oakland, contact our Repair Referral Service at 415/200-3430 or homerepair@colehardware.com.