COLOR OF THE YEAR: Marsala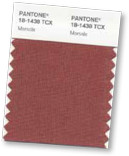 Pantone, the global color authority, announced Marsala, a naturally robust and earthy wine red, as the Color of the Year for 2015. "Marsala enriches our mind, body, and soul, exuding confidence and stability," said Leatrice Eiseman, executive director of the Pantone Color Institute®.
"Much like the fortified wine that gives Marsala its name, this tasteful hue embodies the satisfying richness of a fulfilling meal, while its grounding red-brown roots emanate a sophisticated, natural earthiness. This hearty, yet stylish tone is universally appealing and translates easily to fashion, beauty, industrial design, home furnishings, and interiors."
Marsala for Interiors
Complex and full-bodied without overpowering, Marsala provides a unifying element for interior spaces. Add elegance to any room by incorporating this rich and welcoming hue in accent pieces, accessories, and paint. Marsala's plush characteristics are enhanced when the color is applied to textured surfaces, making it an ideal choice for rugs and upholstered living room furniture.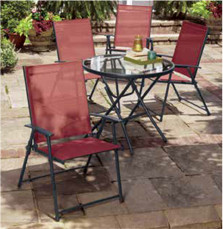 Nurturing and fulfilling, Marsala is a natural fit for the kitchen and dining room—making it ideal for tabletop, small appliances, and linens throughout the home. The hue will be especially prominent in striping and floral patterns found in printed placemats, dinnerware, bedding, and throws.
Marsala in Our Stores
In a hardware store, where glamour can sometimes be elusive, our housewares and garden departments are the most fashion forward of any other areas in our stores. Here are a few of the products in this rich Marsala hue that you will find on our shelves. We see Marsala used in a lot in the packaging of products. And just for fun, we found several true hardware items that embody Marsala!